Hi, I'm Andy Stevens. I am an electrical engineer, software developer, and computer system administrator. I do consulting around the New York City area. If you think you might be interested in my services, please check out my curriculum vitae.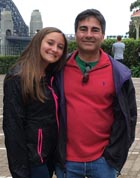 My wife's name is Theresa, and we live in Westchester county, just north of New York City. We have one child, an 18-year-old daughter named Emma Juliette Stevens. Here are some pictures of Emma.
In my spare time, I like to listen to all kinds of music, including acoustic, folk, punk, rock, bluegrass, celtic, metal, and more. I especially like to see live music, and I am music director of an acoustic venue in Rye Brook, NY, called Music at the Mansion. Long ago I used to be the manager of the Postcrypt Coffeehouse at Columbia University. I've seen quite a few concerts in my time, including Richard Thompson, the Troggs, Prince, Miles Davis, Led Zeppelin, Frank Zappa, Alison Krauss and Union Station, Queen, Stanley Clarke, and a few more.
I have a lengthy and sordid educational background, including a Ph.D. from Columbia University, a masters from University of Pennsylvania, and a bachelors degree from MIT. All of my degrees are in electrical engineering, and I spent several years doing hardware and chip design for companies like AT&T Bell Laboratories, IBM, Analog Devices, and Argonne National Laboratory. If you have a lot of spare time, you can take a look at my Ph.D. thesis. For a while I worked in new media and the Internet, and I did that kind of work for Voyager, John Wiley & Sons, and Double Agent. Since 2001, I have had my own engineering consulting firm, Electrical Science, where we "specialize in elegant solutions to esoteric problems."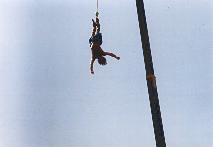 I also like to travel. This winter (2020), we went to Morocco and visited many historic sites and markets in Fez, Meknes, Rabat, and Marrakesh. In the past, I have also been to S. Korea, Spain, Holland, Scotland, Mexico, Italy, Hong Kong, China, Bali, Greece, Israel, Japan, Thailand, Australia, England, France, Switzerland, Austria, Germany, Yugoslavia, Bulgaria, Turkey, Egypt, Peru, Guatemala, and Colombia. Here is my travel wantlist: Scandinavia, New Zealand, Iceland, Antarctica.
Check out my Dormline tribute page!!
Check out my Andy's Chili page!!
Check out my ticket stub collection!!
Last updated:
Andy Stevens
14 Paddock Rd.
Rye Brook, NY 10573
USA
+1-914-939-1760
stevens@alum.mit.edu