Andy's Chili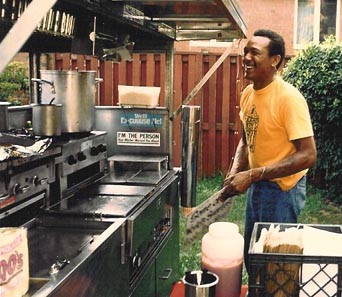 Andy's Chili was a pushcart vendor who sold the most amazing chili dogs in the world!! His real name was Albert Anderson and he was found most weekdays under Building 39 on the MIT campus in Cambridge, MA (though occasionally he set up across from 77 Mass Ave.). Andy did a funky kind of dance while preparing the food, and the line at lunchtime was often 30+ minutes long. He sold t-shirts which said, "Some of the world's smartest people eat here." He was around during most of the 1980s, but he sold his business in 1989 due to health problems.
UPDATED FEB. 2016: Today, Andy is living down south in Orange, Virginia. He still cooks three days a week at Country Cookin. His specialty is breakfast and brunch, but he still occasionally cooks chili and he invites all past chili customers to come on down!
Below is Andy's chili recipe which he dictated to me to the best of his recollection. He never wrote it down, and in fact at one point he admitted that he had once forgotten the recipe and had to call a friend to help remember it. He recited the recipe "per pound of ground beef", which is how I have printed it below. In actuality, he would cook a triple batch.

Andy's Famous Chili

1 pound hamburger
5 cloves fresh garlic, chopped
1 large Spanish onion, chopped
5 tbsp chili powder
.5 tsp cumin
.5 tsp garlic powder
.5 tsp crushed red pepper
salt and pepper to taste
1 can Hunt's tomato sauce (28-32 oz can), more or less to desired chili thickness
16(?) oz. dried kidney beans
turkey bones (for cooking kidney beans)

Brown hamburger with chopped garlic
Mix dry ingredients; add to burger mixture
Add sauce and onions
Cover pot; place on stove at lowest heat
Stir every 15 minutes
Cook for 1.5-2 hours

While chili is cooking, cook kidney beans with turkey bones to add
flavor, about 1.5 hours

When chili is done, add kidney beans to chili
Turn flame off
Let sit on stove for a few hours

Fixing the chili:
Chili Dog: Boil some hot dogs. Andy used dogs with minimal skin which were easily bitable, and I have found that Ballpark Franks do the trick. (Don't use Hebrew National. You will wind up pulling the dog out of the bun because it is so tough to bite, and chili will go all over the place. Trust me.) Also, try to get "top-split" or "New England Style" buns, though these can be hard to find outside of New England or during the winter. Steam your bun, insert dog, and slather with chili. If you like, add shredded cheddar cheese. Wrap in aluminum foil, carry it home, and eat with an icy cold Pepsi.
Frito Pie: Take a small lunchbag-size bag of Fritos and crunch it up so the chips are small. Open bag neatly at one end and pour chili right in the bag. Mix it up and add shredded cheddar cheese if desired.
SEE ANDY IN ACTION!!

---
Comments...
From: Mark Zegarelli, Thu, 7 Sep 2017 13:53:47
I worked for Andy back in 1985, and I remember him very fondly. He was a great boss and a good friend, and I'd love to touch base with him again.

When I worked for him in his usual spot at MIT, under Building 39, Andy had recently upgraded from his smaller chili truck to his larger one. This afforded him lots of extra grill space, so he had added Italian sausage and kielbasa to his menu, and I remember that they were almost as popular as his chili dogs and his infamous Frito pies.

We'd work from nine to five, and every day from 10:30 until 2:30, the line was literally non-stop, usually dozens of customers deep. And yet everybody was relaxed and friendly, glad to wait, even in the cold, though happiest of all when they'd reached the front and could finally place their orders. We loved all of our customers, and knew many of them by name, and they of course knew us.

During the four-hour lunch rush, we always worked as a team, and it was like we were one man with four arms, in constant motion that may have looked chaotic but was actually ever on point. It might have looked stressful, but it was really quite peaceful, because there was no place to be but in the present moment, and everybody in the mix was quite content to be exactly where they were.

At times, I would step back from the action mentally, almost leaving my body, and watch my own hands moving at lightning speed through moves that had grown effortless through daily repetition

But here's the main point: This confluence of happy people and delicious non-diet food that so many people still recall gratefully after 30 years could only have existed because the guy at the helm was actively being who he was. I have no idea whether Andy was or is a religious man, nor does the role that he played necessarily need to be cast in terms of God or some other conscious higher power. But it's clear to me that, intentionally or otherwise, Andy was channeling a life force, or simply opening to love in its most basic and practical expression, in a way that rippled outward in every direction and still continues to do so

Nor is this phenomenon new or rare, though it may rarely be fully appreciated. In "A Christmas Carol," Charles Dickens sheds a little light on it when Scrooge is provided the opportunity to revisit his first apprenticeship and observe his former boss, Mr. Fezziwig. When the Ghost of Christmas Past appears to dismiss the praise that the old man's contemporaries heap upon him, Scrooge explains that Fezziwig "has the power to make us happy or unhappy, to make our work a pleasure or a burden," and begins for the first time to regret his now-iconic mistreatment of his own employee, Bob Cratchit.

With so many books on business management and leadership available today, I hope that this humble, awesome power is starting to be revered for what it is

I didn't sit down to write an essay, but there you are. So I hope I get the chance in the near future to thank Andy personally, not only for the good memories, but also for helping to point a rather confused young man in something resembling the right direction.

Thanks again,

Mark Zegarelli
From: David Morales, Wed, 02 Dec 2015 20:21:51
Andy's chili is one of my fondest memories of MIT. I loved his food, and have longed for it ever since! Thanks for posting it! One question: what kind chili powder? I'm not sure it will be the same.

David Morales '89
From: E. Faulkner, Fri, 12 Dec 2014 17:09:52
I just met this guy in the Pantops Food Lion in Charlottesville. He was staring at the spice section and so I asked him if he had seen what I was looking for, and what was he looking for. As I entered the tute in the fall of 1970 and got a degree in '76, I responded to his comments about being a vendor at MIT. We had a wonderful conversation. He is alive and well.
From: Albert Labonte, Thu, 24 Apr 2014 18:16:44
In the 70's we worked together at Logan Airport and for a time Harvard Square. Andy was getting frustrated with the job so I offered my hotdog cart to him to try and so he took up the offer and in the beginning he was frustrated nothing was going right for him but he pursued and ended up buying the unit he had at MIT and he succeeded and it couldn't have blessed a better person. He is a jewel of humanity and will make you laugh with all of his antics like juggling.
From: Pean Lim, Fri, 31 Jan 2014 17:38:58
Thinking back the thing I remember most clearly about Andy's Chili was when he would serve up what you'd ordered and then look up at you and say "somethin' else?" in such a kind and friendly way. What a privilege to have eaten there!

-- Pean Lim MIT '84

From: Rob Hillman, Tue, 23 Apr 2013 22:35:33
Chili Dog with Cheese and mustard. My favorite. What a cook! I don't know how it did on some of those cold winter days, but he always had a line. I don't know if you recall, but there was a huge controversy (and subsequent uprising) when the Institute forced Andy off of Mass Ave.

Rob Hillman '87
From: Ron Spangler, Fri, 11 Jan 2013 17:28:59
I was at the 'tute from 1982 to 1993, and spent a lot of time in Bldg 37, where Andy set up (at least during my time). Still have my t-shirt somewhere. It's safe to say that if he hadn't stopped selling Frito Pies, I would still be in grad school.

Ron Spangler
XVI '86
From: Cynthia Reedy, Sun, 6 Jan 2013 16:58:02
Thank you so much for posting Andy's biography and the recipe for his chili. I loved those chili dogs. I remember bringing one of those foil-wrapped wonders to astronomy class one day much to the delight of my professor who shortly after became a convert as well.

You have made my day - what a wealth of happy memories and soon...some chili for me and my family!

Sincerely,
Cynthia Reedy '80
From: Kevin.G.Rhoads, Sun, 11 Jul 2010 15:13:55
I was a grad student and a House Tutor in Bexley when I got married. Nora (SB '83) & I had three receptions, one at her family's house in Winchester, MA; one in Lehighton, PA with my family and one in the Bexley Courtyard -- catered by Andy's Chili. There were one or two bottles of Asti Spumante left (from two or three cases) which we gave to Andy to take home.

A good time was had by all. And many corks were shot up from the Courtyard onto the roof of Bexley.

Sincerely
Kevin
From: Leigh Klotz, Sun, 11 Jul 2010 08:46:05
I met Andy in 1979 when he was near the architecture department on Mass Ave. Soon he got moved to right in front of Bexley, at the 77 Mass Ave crossing. He stayed there for a while, and after a couple of times eating there I noticed he had chips but not Fritos. I told him I wanted to make Frito chili pie, which he'd never heard of. He had Fritos the next time and I showed him how to make it. He later developed a routine all his own of popping the bag open and doing a patter and dance, but for the next 9 years he always gave me a 25 cent discount on Frito Chili Pie.

Leigh Klotz
6.3 1989
From: Brenda & Dale, Thu, 30 Apr 2009 11:23:32
I looked up Andy's Chili on the web and found this site and wanted to send a short note about Andy. I live in Gordonsville and my fiance and I are frequent customers of Innwood Restaurant on weekends. We have been acquainted with Andy for a couple of years and now consider him our dear friend. It is very hard to meet him and not feel as if he is someone you have known for many years and loved for just as long. He always has a big smile and a huge welcoming greeting, and who could resist his infectious laugh.

He made a big batch of his Chili on Superbowl Sunday and shared with many of his customers and what a treat!

We are all truly blessed!

Brenda & Dale Gordonsville, VA
From: Bryan Loofbourrow, Wed, 4 Jul 2007 14:19:49
Thanks much for your page about Andy's Chili. I started at MIT in 1979, and I remember well how worthwhile it was to spend the time standing in line for an Andy's dog or two. He was the sort of man who could brighten even the most stressful day, and his food was magnificent and cheap. It wasn't at all rare to see a full professor standing in that line, too.

While I realize that it is the Andy's chili dog that was most celebrated, I always had a soft spot for those onions. Not the spicy raw ones referred to on your page, which I do not recall, but the soft, sweet cooked onions, tinged with red. Usually I'd skip the chili and just get a couple of dogs with those wonderful onions on them.

I'd love to know how they were made. Today, July 4th, I have two differently-seasoned batches of onions slowly simmering on the stove, trying to re-create something like those magical Andy's onions, to go with tonight's charcoal-grilled hot dogs. It seems like the right day to do it. The ray of sunshine that Andy brought to everyone who had the privilege of being one of his customers seems like America at its finest.
From: Fred Feinberg, Mon, 11 Sep 2006 13:19:37
I just came across your Andy's Chili page, and my heart skipped a beat. I started MIT in 1979, and ate at Andy's quite often. But the next part is a bit freaky. When I came back for grad school in 1984 (I'd been gone a year), a friend had a room open in this huge ramshackle house in Medford, and I decided to avoid Ashdown and take my chances off campus. My room was... next to Andy's. Yes: we were housemates for 4 years. For most of that time, his really cool girlfriend Charlene, who was a symphony bassoonist, also lived there, along with a changing cast of pretty eclectic individuals (over 20 in those 4 years).

He was a GREAT guy. He had health problems, exacerbated by the cold, all that time (I left for a faculty job in 1988), and by the time I'd gone he was already considering selling the business. He was unfailingly friendly, helpful, polite, and over the years I'd met tons of his friends, as well as his father and a daughter who'd already grown up.

People never realized just how hard Andy worked. He got up every day around 4AM to go and cut onions, grate cheese, and start cooking chili. He made everything from scratch, even though it was killing him physically. Then, he'd stand in freezing or 100% humidity weather for 8+ hours, after which he'd take his stuff back and clean everything out for the next day. 60+ hour weeks, usually.

Anyway, it's terrific that you've memorialized him this way. SO many people have fond memories of him. I'm glad I got to know him as a friend as well as that crazy-cool guy who fed and entertained a generation of, as he put it, "some of the smartest people in the world".

Fred Feinberg
University of Michigan

PS: Lots of people thought Andy must not be educated or swift, but he was both. His sign said "Dr. Andy, P.H.D.", and often people would try to politely tell him that it should be "Ph.D." And he would just as politely answer that his abbreviation was correct, since it stood for "Purveyor of Hot Dogs"!
From: Eve Diana, Mon, 3 Apr 2006 00:56:05
I love your website in tribute to Andy Anderson. Here's a few additions.

First:

My courtship to John Murdzek occurred while we waited in line for lunch at Andy Anderson's chili cart. When we married in 1992, we asked Andy to officiate at our wedding ceremony. Despite the stress of planning and rehearsing an event involving the notoriously unreliable Andy, we never considered anyone else for the job. It had to be Andy.

After we recited our vows, Andy blessed our union with these words: "And now, by virtue of the power and authority vested in me, by the Massachusetts Institute of Technology, I pronounce you best friends, with tenure. Let the revolution begin!"

Second:

MIT holds IAP (Independent Activities Period) every January, a wonderful free-for-all of classes and seminars on every imaginable subject. In 1993, Bill Orme-Johnson hosted "Applied Chili Chemistry", a chili cook-off. Chefs and volunteer judges were welcomed. Pot after pot of chili was delivered to the kitchen, creating a heavenly cloud of chili perfume. Bill presided over the blind taste tests, providing tortilla chips and freshly baked bread to assist in the judging, as well as a recipe book of his personal favorites. It was a wonderfully filling day, and to our great delight, when the final votes were tallied, Andy Anderson's chili was declared the winner!

Third:

I've really hit the mother lode with this one. I found the original recipe for Andy's chili! I had hired him to cater my moving party, and as he assembled the feast, he dictated the recipe to me. So here it is, straight from the master himself! And it proves that your palate has a great memory -- your recipe is pretty close. Notice that Andy leaves alot of flexibility in the recipe, depending on your preferences for spiciness.

[ see recipe higher up on this page ]

Ah, one last treasure. Andy's full legal name: Albert Perry Paris Anderson Jr.
From: Skip Flem, Tue, 21 Feb 2006 15:09:43
I, too, visited Andy, the chiliologist, at least three times a week, from 1982 to his last week at MIT; July 1989. He did return for a few weeks, in a big 'ice cream truck', but that didn't last. Someone ended up 'sub-contracting' it, but again, for a few weeks. My typical lunch would be two chili dogs, with cheese and onions and two Dr. Peppers. Fridays we'd end up at the Muddy Charles Pub. (Beer was $1.75 a pitcher). I was working with the Product Development group at Polaroid Corp. and would sneak out for lunch at 11:25, to find a line of 3 or 4 people. The days I couldn't break 'til noontime would be a no-show day, since the line could be a half hour. I also made it a point to take 'chili orders' from co-employees. From '85 to '90 I had Celtics seasons tickets, and would often invite him along as #2. He was a good buddy. Yes, the cold was starting to get to him, and the real cold days he'd take off.
From: John Murdzek, Thu, 21 Apr 2005 13:40:04
Andy Anderson and his chili cart are some of my fondest memories of my time at MIT (1983-1988). He always had a smile, a corny joke, and excellent, inexpensive food for any and all who came by. As I said in the acknowledgements to my dissertation, "Andy Anderson, Head Chiliologist of Andy's Place, deserves special mention, not for serving up fine cuisine (which he does), but for serving up optimism and encouragement at a place where a good word is hard to come by."

Other stray memories of Andy's Place include the magazine rack (because the line could be very long), his Andy's Place T-shirt (which said "Some of the world's smartest people eat here" on the back), and Andy working in shirtsleeves on some darn cold January days (which might explain why he didn't always show up every day). Also, in your recipe for a frito pie, you suggest adding the cheese after the chili. Andy always added it before, so the hot chili would melt the cheese.
From: Gail Flowers, Thu, 24 Feb 2005 20:28:31
Wow, what memories! Last time I looked up Andy's Chili on the web, nothing was there. This time I hit the jackpot! Thank you for taking the time to put it together. I will try your recipe!
From: Max Hailperin, Sat, 1 Jan 2005 18:10:13
I just stumbled upon your Andy's Chili page, and noticed that one of the comments was from Rich Salz saying that I had Andy cater my wedding. Yep. His memory of the details was foggy, though. He guessed "around 81 or so" and thought it was in the Senior House courtyard. The actual date was August 10, 1986, and the actual place was clear the other side of campus, in a New House courtyard (the one to the west of Desmond, behind Deutsches Haus). Stefanie and I still have fond memories of it 18+ years later. I attach a photo of Andy serving Stefanie and my mother. [Max also sent the photo of Andy at the top of this page.]
From: Arvind Rao, Fri, 1 Oct 2004 08:38:23
w/r/t andy's chili

i never understood his schedule...somedays he just didn't seem to show up for work...
From: John Watlington, Thu, 30 Sep 2004 10:01:03
Thanks for reminding me !

Your chili recipe looks very close to the one I use when I want to recreate Andy's chili. My only suggestion is that the higher the fat content of the ground beef, the more authentic the taste.. And while Andy always claimed his "secret ingredient" was an old gym sock, I haven't brought myself to add one.

And don't forget the hot onions !!

Chop up an appropriate amount of white onion, sprinkle with red pepper flakes and cayenne pepper, add enough (fresh) tabasco (or similar red pepper sauce) to almost cover the onions stir well and let sit for at least an hour.

Can be stored in fridge for several days (if it starts bubbling, dispose of quickly and carefully !)
From: Rich Salz, Thu, 30 Sep 2004 02:01:13:
Max Hailperin got married over the summer at the MIT chapel, around 81 or so. Andy catered the wedding dinner, which was held in the Sr house courtyard, as i recall.
From: Eve Diana, Tue, 6 May 2003 02:10:12
We've lost touch, but the last time we spoke, [Andy] was managing a Country Cookin restaurant in Orange, Virginia.

[...six weeks later]He's not working at Country Cookin' anymore -- the person who answered the phone had never heard of him.
---
Write me at stevens@alum.mit.edu with your memories of Andy's Chili!!
--Andy Stevens, 1/28/03
Last updated: